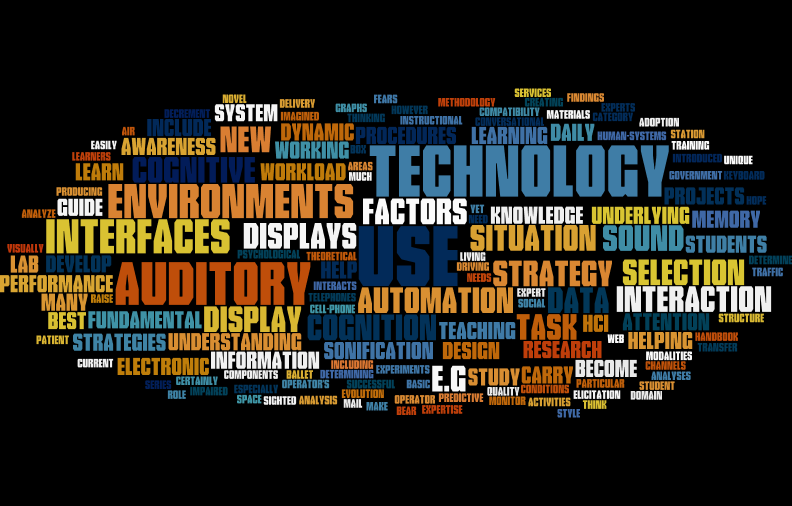 Engineering psychologist are applied scientists who develop knowledge concerning the capabilities and limitations of humans to sense, store, and process information, and to act. This knowledge is applied to the design, use, and maintenance of human/machine systems. Depending on its mission, the system is then optimized with respect to human performance. The environmental factors affecting system performance are recognized as important and are considered systematically. When relevant data are not available, the engineering psychologist must uncover it through research efforts. This requires considerable skill in experimental design and quantitative methodology.
The engineering psychologist is primarily an applied experimental psychologist. For this reason, the foundation areas of research are the various content areas of experimental psychology. Work in the Engineering Psychology program at Georgia Tech includes:
human-computer interaction,
human factors in aviation and air traffic control,
educational technology,
visual attention,
decision making in visual search,
human factors in cognitive aging,
the development and evaluation of auditory and multimodal interfaces,
as well as other topics.
Researchers in the Engineering Psychology program at Georgia Tech collaborate with other organizations at the institute, including the Aware Home and the Graphics, Visualization, and Usability Center.
To learn more about specific research conducted in Engineering Psychology at Georgia Tech, visit the Laboratories page.
The Engineering Psychology graduate program has been given full accreditation by the Human Factors and Ergonomics Society (HFES).
There is a colloquium series at which students and invited speakers present their research. For more information, please see the events section on the Home page.