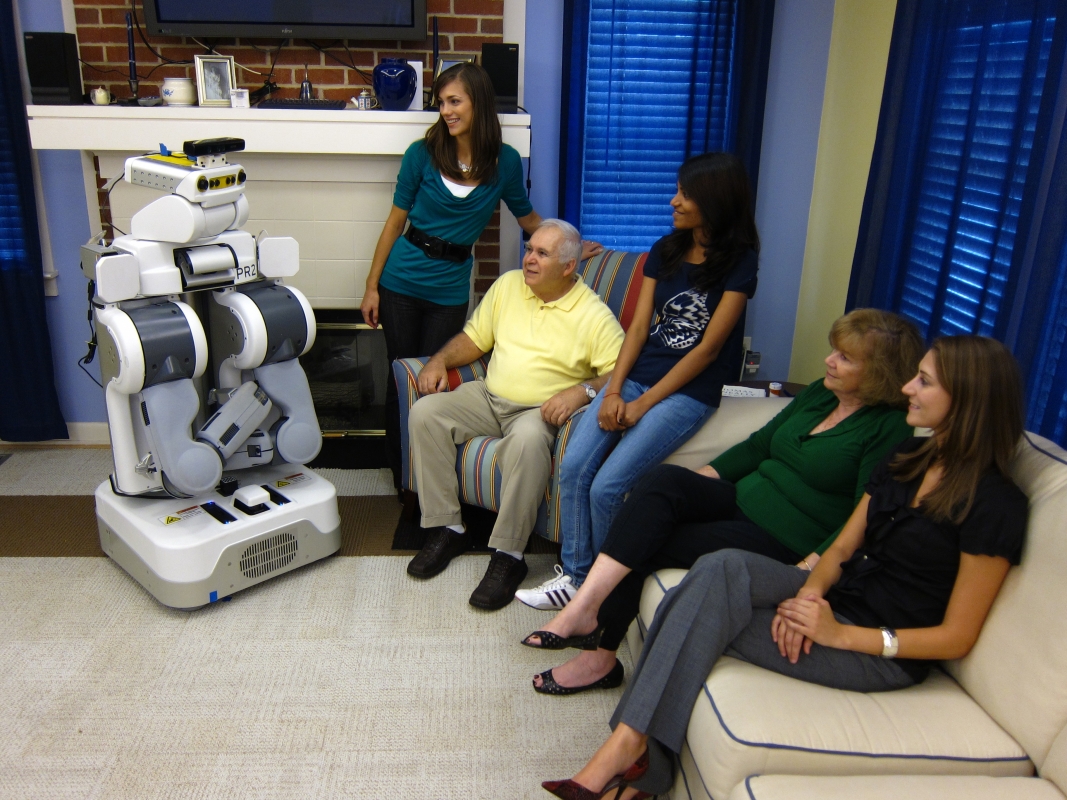 GATSBII (Georgia Tech Service Bot with Interactive Intelligence) with research participants Mr. & Mrs. Bolet and graduate student researchers (L-R: Jenay Beer, Akanksha Prakash, and Cory Smarr) in the GT Aware Home.
Research is a primary focus at the School of Psychology. Both basic and applied research is conducted in many laboratories. Much of our basic research is dedicated to studying fundamental psychological processes, such as memory, attention, language comprehension, motivation, decision making, and their neural mechanisms. Applied research topics include aspects of human interaction with technology, instructional design, psychological factors in occupational settings, and other topics.
The school features five research program areas, including Adult Development and Aging, Cognition and Brain Science, Engineering Psychology, Industrial/Organizational Psychology, and Quantitative Psychology.
Over 20 laboratories conduct research at the School of Psychology. For more information about current research projects and the individuals who are involved in each laboratory's research, visit the laboratories page.
We led the establishment of the Center for Advanced Brain Imaging (CABI), a joint initiative between Georgia Tech and Georgia State. CABI is a 6000-square-foot facility dedicated to understanding brain function. The center is located in the heart of Midtown Atlanta. The center has a research dedicated 3-Tesla Magnetic Resonance Imaging scanner capable of high-resolution images that are sensitive to brain structure and function.
We employ state-of-art technologies to study the brain and behavior. Examples of the technologies include (1) structural and functional brain imaging using magnetic, spectroscopic and electrical methods, (2) direct current, magnetic and acoustic stimulation of the brain, (3) wearable technologies for eye tracking, physiological recordings from the brain and body, (4) virtual / altered / extended reality, environmental simulators (e.g. for driving, pilot training), (5) markerless positional and motion tracking using distributed imaging systems and deep-neural networks.
Many research studies depend on the help of volunteer research participants. Both students and non-students are welcome to participate.
The School of Psychology has collaborative interactions internally, within the College of Science, with other organizations on campus, and also with external organizations and universities.