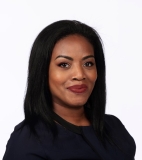 Tikica Platt
Administrative Manager II
tikica.platt@psych.gatech.edu
404-894-7557
JS Coon 155
Education
Tikica began at Tech in December of 2020, encapsulating 22 years of administrative and financial experience from the University of Georgia. She holds a BBA from Clark Atlanta University and an MBA from Piedmont College.
Duties
As Administrative Manager, Tikica is charged with supervising and coordinating administrative services within the School of Psychology. These services include human resources, operations, and IT. She accomplishes this with a dynamic team, for which she sets employee goals, assesses performance, and provides feedback, alongside the School's financial team.
In carrying out the aforementioned duties, Tikica serves as counsel to School management, faculty, and staff, and liaison between the College (of Sciences), School management, and staff.