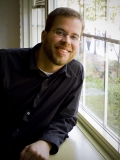 Rustin Meyer
Assistant Professor of Psychology
Industrial/Organizational
rustin.meyer@psych.gatech.edu
404-894-6770
JS Coon 129
CASA Lab
Education
Ph.D. (2009) Industrial/Organizational Psychology Purdue University
Research Interests
The overarching theme of my research is interactionism—the belief that human behavior is inherently a function of individuals and the situations they experience. Thus, my specific streams of research focus on better understanding individuals and situations at work in mutually commensurate ways. This includes improving theoretical and empirical conceptualization of "situational strength" (the idea that various situational characteristics have the ability to restrict the expression and, therefore, criterion-related validity of dispositional characteristics); adapting the nature and structure of the Linnaean Taxonomy to the study of situations by creating an updateable, hierarchical taxonomy that categorizes types of situations on the basis of their defining characteristics; and better applying research methods that are relevant to interactionism.
Selected Publications
Dalal, R. S., Meyer, R. D., Bradshaw, R. P., Green, J. P., Kelly, E. D., & Zhu, M. (2015). Personality strength and situational influences on behavior: A conceptual review and research agenda. Journal of Management, 41, 261-287.
Meyer, R. D., Dalal, R. S., Jose, I. J., Hermida, R., Chen, T. R., Vega, R. P., Brooks, C. K., & Khare, V. P. (2014). Measuring Job-Related Situational Strength and Assessing its Interactions with Personality and Voluntary Work Behavior. Journal of Management. 40,1010-1041.
Meyer, R. D., Mumford, T., Burrus, C. J., Campion, M. A., & James, L.R. (2014). Selecting null distributions when calculating rwg: A tutorial and review. Organizational Research Methods, 17, 324-345.
Meyer, R. D., Dalal, R. S., & Hermida, R. (2010). A Review and synthesis of situational strength in the organizational sciences. Journal of Management, 36, 121-140.
Meyer, R. D., Dalal, R. S., & Bonaccio, S. (2009). A meta-analytic investigation into situational strength as a moderator of the conscientiousness-performance relationship. Journal of Organizational Behavior, 30, 1077-1102.